The Beijer Young Scholars (BYS) Program was launched in 2012 with the aim to create international networks of early-career researchers to stimulate cooperation across disciplines and the emergence of new research paths in response to global sustainability challenges.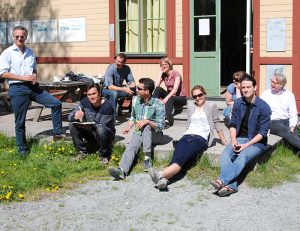 Conducting collaborative, integrative and interdisciplinary research is a time-consuming endeavour that is not always well recognised in the academic incentives system, but is crucial in achieving advances in researchinto deeper scientific questions. One important aim of the BYS programme is to facilitate and provide the space for such research.
The first Beijer Young Scholars group met in three workshops between 2012 and 2015, and the second between 2016 and 2018. These networks have been rewarding both for the participants and the Beijer Institute and therefore a third Beijer Young Scholars cohort was invited and met for the first time in May 2019.
The program hosts post docs and young faculty (within two years of completed PhD) as well as advanced PhD-students. It gathers a balanced mix of around 20 selected people with backgrounds in economics, ecology, political science, and related disciplines; stimulate collaboration; and run working groups and workshops.
As a method of achieving this, participants will during each workshop (and in between workshops) collaborate on topics of high relevance to the research focus of the Beijer Institute. Senior researchers act as resource persons.
The hope is that the Beijer Young Scholars programme will initiate collaboration between young scientists with different disciplinary backgrounds, supporting them in creating their own research networks with strong links to the Institute's network of researchers, fellows and institutes.